Fort Bragg & Mendocino Concert Venues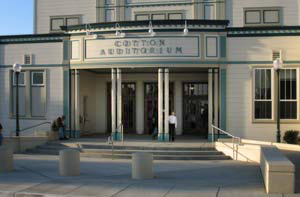 Photo: Dave Mathews
Cotton Auditorium
Fort Bragg
From Main Street (Hwy 1) in Fort Bragg, head East (a right turn if you're coming from the South) on Fir Street. Cotton Auditorium is six blocks from Main Street at the intersection of Fir Street and N. Harold Street.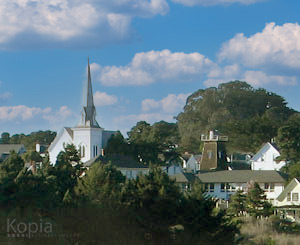 Photo: Dave Mathews
Preston Hall
Mendocino
Preston Hall, the venue for Opus Chamber Music concerts, is on the grounds of the landmark Mendocino Presbyterian Church on Main Street.
Fort Bragg is located on Northern California's Mendocino Coast about 170 miles North of San Francisco. The village of Mendocino is 10 miles south of Fort Bragg.
There are four major highway accesses.
From the North and South by Highway 1 along the coast; From the East on Highway 20 from US 101 at Willits; and From the Southeast by Highway 128 from US 101 at Cloverdale.