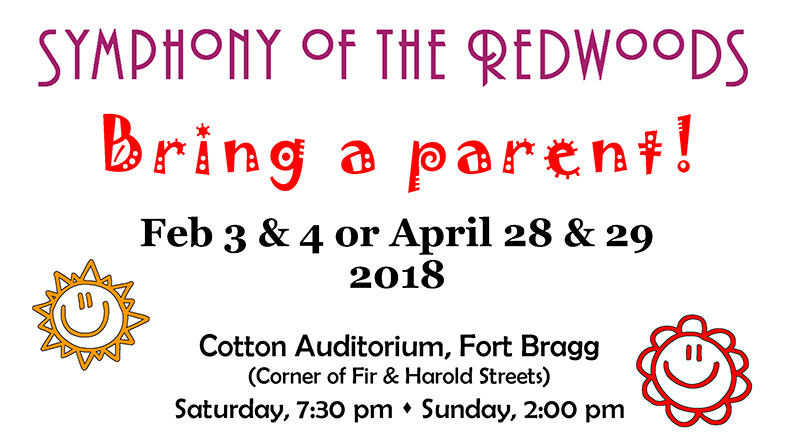 Symphony of the Redwoods Bring-a-Parent Project
As part of Symphony of the Redwoods' mission to provide classical music experiences for coastal youth, all students 18 years and under are admitted free to Symphony orchestra concerts.

The Bring-a-Parent Project allows free admission to some adults as well. A limited number of Bring-a-Parent tickets will be available at Mendocino and Fort Bragg schools prior to Symphony concerts. Each ticket admits one adult (parent, grandparent, teacher, adult friend or relative) to a Symphony of the Redwoods season orchestra concert who is accompanied by one or more young folks 18 or under.

Listen for an announcement at your school on how to obtain a ticket, or call the Symphony office at 964.0898 and we'll send you one.


Music is good for all of us!
It's good for the heart:
Telegraph
It's good for the brain:
Hopkins Medicine
It boosts our well-being and may even make us smarter:
Newsweek
Take advantage of the Bring-a-Parent Project!
BRONZE BATON
Sponsors of Music in the Schools:
Arts Council of Mendocino County
Get Arts in the Schools Program
Mendocino K-8 Parents Club
M U S E
Barbara Faulkner & Steve Acker
Joselyn Bartlett & Tony Miksak
Symphony of the Redwoods — 2007-2018 © All rights reserved